Here are the intrepid folks who've been brave enough to come aboard Sunshine in all her stages of improvement. In order of appearance:
Jesse and Stacey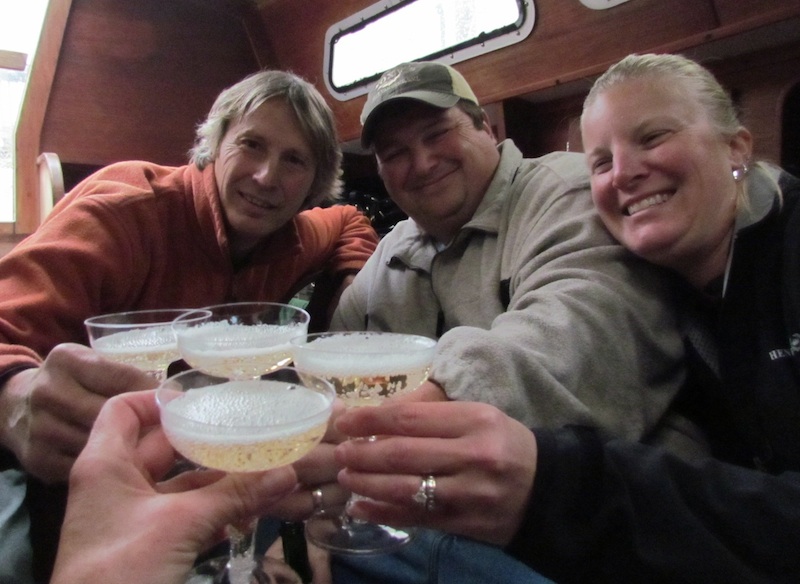 We first met Jesse and Stacey when we were just starting to scrape the long-term storage debris and horrid bottom paint off of Sunshine. Since then they've become boating friends to die for.  They've taught us about sailing New England waters, let us stay at their house during hurricanes, brought champagne to toast Sunshine's splash, loaned us heaters during blizzards and launched us on our first cruise, among many other things. We love them, their dog Summer and their boat Smitty. Jesse blogs about their sailing adventures and techie boat things at svsmitty.wordpress.com.
Jeremy and Tiffany
In March of 2013, our son Jeremy and his wife Tiffany came to visit. This was supposedly spring, and we planned all sorts of outdoor activities, the famous Southie St. Paddy's Day parade, historical tours of Boston, sailing, yadda yadda. But as soon as they arrived the snow started to fall again. The entire week they were here we battled snow and broken appliances, but we still managed to have a great time.
When we weren't walking around Boston in the freezing cold or repairing machines, we stayed warm drinking hot buttered rum and playing a word game called Syzygy. I seem to have forgotten I owned a camera that week. All I have are a couple of shots taken with my cell phone – one at the parade with our green beads and one of Jeremy at the marina.
Martin
Sway, Martin's charming Tahiti Ketch added salty character to our dock all winter and spring. We kept an eye on her until he could come down from his Vermont mountain home to work on her this summer. Everyone did happy boat jobs all day, then I made dinner and we ate and drank and talked philosophy and poetry into the wee hours. When he sailed her away to her summer mooring in Hull we were sad to see them go, but happy they were sailing together again.
Dad
I think Dad was happy to stay with us for a few days. The living was rough, as lots of things weren't finished yet, but he enjoyed getting behind the wheel after many years away from sailing.
Jason
Sunshine would never have moved without Jason. He provided expert diesel mechanic telephone tech support from his home in Rhode Island when we were under the gun to leave Hingham and couldn't quite get the engine to start. His cheery optimism about Yanmar engines when all seems lost has saved us a dozen times.
He and Sunshine finally met in June when he came up to do an official diagnostic session for us. He stayed all day, we had lunch, hung out, then he helped Jesse with some of his engine issues and we followed up with drinks at Hingham Beerworks. That day cemented our friendship and his help gave us the confidence that our boat was ready to hit the high seas.
If you need the services of a GREAT diesel mechanic drop me a line. I'll hook you up with Jason and he'll have you underway again in no time.
Mari, Paul, Quincy, Myles and Desmond
We met up with the family in Fort Lauderdale. The boys were shocked at how little our house is. They have a big one in Portland. But they got a kick out of going out to dinner by boat.
The next day they enjoyed spending an afternoon at sea under sail. We chased flying fish, dangled our feet in the water, played chicken with cruise ships and raced thunderstorms. Quincy discovered he's a natural helmsman and nobody got seasick!
Who's next?