Schooner Adventuress design and specifications
Adventuress is a beautiful vessel, long and sleek and ship shape. For detail mongers, she's a Gaff Topsail Two-masted Schooner measuring 133 feet from the tip of her bowsprit to the up tilted crown of her stern … for which there is probably a more accurate and saltier term. Her rig stands 110 feet tall and she flies seven sails.
Adventuress' history and specs are written up on the Sound Experience website, and in a book called "Adventuress: The Four Lives" by Trink Schurian, but here are the highlights as I see them.
She was designed by naval architect B.B. Crowninshield, who was famous for designing America's Cup contenders, and built in 1913 by Rice Brothers in East Boothbay Maine. She is the largest Crowninshield vessel still sailing.
Adventuress' original purpose
Adventuress was built for John Borden II, son of a successful land and mining investor. An avid sportsman (read hunter) Borden had noticed that the American Museum of Natural History lacked a specimen of a bowhead whale. In order to rectify that problem, he decided sail to the arctic and bring one back.
[DELETED rant re: men and the drive to taxidermy]
Stay on the boat … stay on the boat
After getting a good look at Adventuress on Saturday, I suspect Mr. Borden was not so enamored of hauling a dead whale down the Pacific Coast, around South America and then up the Atlantic Coast again, as he was of sailing about on pretty boats. I think he used the whale as an excuse for having one built for himself. And what a boat he built. Sturdy, beautiful, and lucky, in her 97 years Adventuress has weathered not just her share of storms – including one that dismasted her – but the vagaries of human fashion, the indignities of war and the march of progress. She's won a lot of admirers in the process, and now appears on the National Register of Historic Places.
The romance of the sea
While the schooner's technical data may set some hearts aflutter, others of us are more stirred by the romance of giant spars, gleaming brightwork, white rope coiled on dark, planked decks and the absence of electronics and winches. This is an old boat and aboard her, old is good. To sail her, the crew primarily does things the old fashioned way, with muscle and know how.
That doesn't mean things are done by grizzled fellows in tatty pea coats. The crew of Adventuress is young and stylish. In fact, her dashing captain was featured in the (sadly now defunct) online magazine Tall Ship Sexy. With good reason. Ladies, if you're looking for something different to do this summer I suggest you forget the Twlight Tour and sail on Adventuress with Captain Daniel Evans, who is not fictional.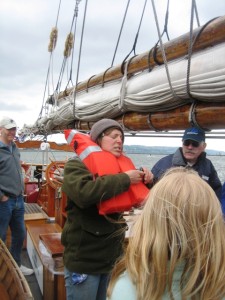 Once the last passenger (yes, it was me) had climbed the boarding ladder, Captain Evans and Chief Mate Sarah Felder began a shipboard version of the safety demonstration so familiar to airline passengers. I won't try to recount their comedy routine about trip-hazards, boom shenanigans and life-jacket donning for you here, but I hope Sound Experience will produce a safety video because it was quite well done and a bit of a hoot.
Next up – The actual SAILING part