Now and then a "great idea" for a blog topic doesn't quite make it to the big time.
I've been reviewing my drafts folder, part of an attempt to clean my virtual house, i.e. get rid of unpublished posts and other files that are taking up space on my hard drive, or server, or cloud, or what have you.
This is driven by the fact that I hurt my knee a couple of nights ago while doing actual, analog house cleaning. I turned right, the nubby sole of my shoe got stuck in the carpet, and my knee gave way. I'm sitting with an icepack wrapped round my leg, laptop and smart phone at hand, reading e-texts and doing virtual housework.
In my drafts file I found the following partially formed posts:
Hook, line and sinker.
Talk about unpublished post. This was actually just the title. There was nothing in the post itself. It wasn't even categorized. So I have no idea what I was thinking, or planning to write. Catchy title though. Seems so familiar. Almost like I've heard it somewhere before …
The Check is on the Beach
This was to be the final announcement of my friend Jan's winning the Cox Conserve's Hero award for 2010. I wrote the post, but wanted her permission to write this up for Tidal Life. She must have gotten busy because I never heard back from her. But I simply have to use this photo of her on the beach with the giant check. Ed McMahon would be so proud. Unable to wait any longer, and ever one to ask for forgiveness rather than permission, I'm going ahead with publication: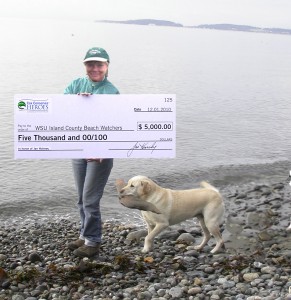 "To My Fellow Beach Watcher Volunteers:

Thanks so much for your votes and support in the COX KIRO Environmental Award contest. WE WON! Its another great tribute to our volunteer program. I was out of the country and unable to attend the award ceremony when they announced the winner but WE were well represented by Mary Jo Adams (who finally "outed" herself as the person who nominated me), Jill Hein the president of our advisory board, Don Meehan, and our new coordinator Barbara Bennett. When we arrived home yesterday this giant check was waiting for me on my doorstep! I still can't believe all this just happened.
Untitled, Unfocused Drivel
I really have no idea where I was going when I started this one. I can only assume it was a fever dream. I started with a link to a reasonably interesting sustainable foodie blog, then took a sharp left (heh heh) into anti-consumerist snark:
"In general I've been envisioning this blog as an antidote to the overly sweet, product and destination marketing centered articles of Coastal Living magazine. I've looked at a number of issues of CL over the years. They publish lovely pictures of people having a good time in designer beachwear and sitting around designer tables in designer chairs. That's as it should be, I suppose, for a publication that must sell advertising and whose advertisers must sell their products in order to have funds to pay for advertising. But I've always been turned off by the focus on consumption and trend."
Then I veered around to provide another sustainable food link – this time from the villainous Coastal Living itself!
Yeah, I really don't know what I was thinking here and I've given up trying to remember what I was focused on. So this is the last of Untitled. Blowing it away.
Ah fresh air and open space.