I Came Seeking Respite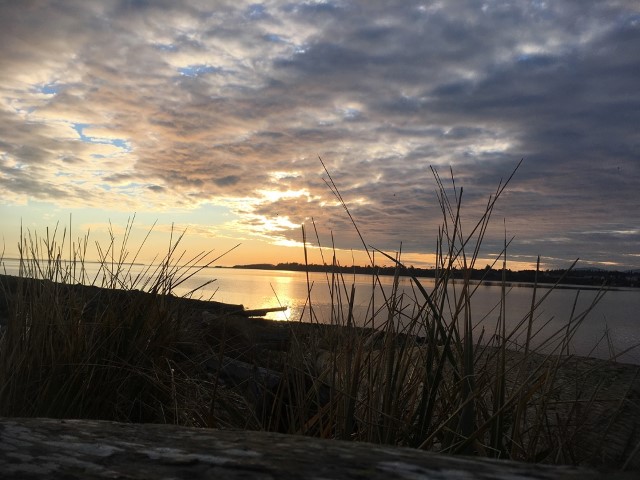 The cottage was small, but homey. Perfect for just me.
I'd been travelling for more hours than anticipated, not arriving at Dungeness Bay Cottages until after dark. PSA: The Keystone Ferry now has a reservation system. Having been on the East Coast for several years, I'd missed that memo and had to wait three ferries. Hard adjustment. In my experience, ferries run on a first-come-first-served basis.
Late as it was, dark as it was, cold as it was, I bundled up and headed outside, looking for a way down the cliff. The hotel info book said there was a path to the beach, and I needed beach.
Though I could barely see, I walked down the road one way, then the other, looking for the path. Clear, cold and still, the air carried the sound of surf from very far off. There were many breaks in the hedge of native plants at the top of the bluff, but most led to drain pipes. Once, getting my hopes up, I nearly stepped onto a dilapidated staircase, now closed as unsafe. A little further, a little more carefully, I finally found a charming, arched gate.
Using my phone for light, I descended the frosty, slippery stairs. My headlamp, 3000 miles away, on Sunshine, would have been handy. But I had not imagined that taking care of an Alzheimer's patient would require a headlamp. Note to those who find themselves called to caregiving: be sure to pack things for a weekend away from your patient. You'll need to recharge now and then.
That's why I was at Dungeness Spit, the longest, loneliest beach I knew. I was seeking respite, a place to rethink, rest, and reset. Walks give me that, wherever I am. But walking a beach is best, so I walked the beach in the dark, breathing the salt air, until I got too cold and shivery. Then I headed back up the stairs, opened my bottle of wine, and watched episode one of Jessica Jones to take my mind off things.
Beach Fix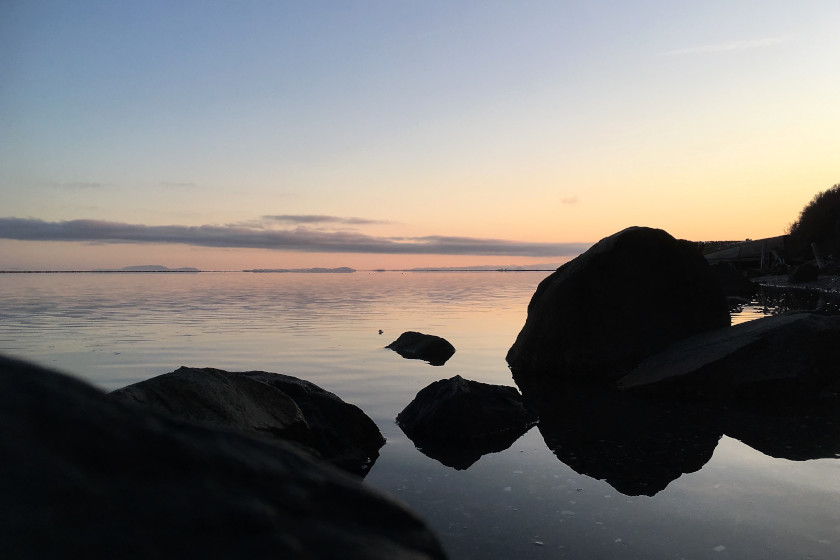 I slept well, made coffee, and at dawn, walked the sliver of beach again, taking pictures, getting the lay of the land, and my first deep breath in months. Tomorrow, I vowed, I would get up even earlier to be out on the spit for sunrise.
This first day, my aim was nothing more than to grab a sandwich and hike as far out the spit as I could by noon. I would eat, relax, be alone, watch the waves roll in and the ships pass, and then walk back. A few minutes of writing would be nice, but the point of this trip was down time.
At 10:00 I stepped out of the forest onto the beach and immediately thought of John Masefield, because here was wind like a whetted knife. I trudged into it, bundled against the slicing cold, knowing the sun and some exercise would improve things.
At 12:00, three miles from the trail head, I quit and found a place to sit out of the wind. I ate my sandwich, wrote in my journal, and then lay down in a sunny hollow. Despite the cold, I actually fell asleep for a little while. I was very tired and really needed to recuperate.
What Tidal Life Means
As I walked, feet digging into sand for the first time in months, as I took pictures of eagles, as I ate my sandwich, as I lay trying to relax, even as I napped, I couldn't stop my mind mulling over possible titles for my work in progress, a cookbook for caregivers.
Cook … Care … Fibulate … the words kept revolving through my thoughts in various combinations. Along with the subtitle of the Thug Kitchen Cookbook – eat like you give a f*ck. NOTE: Thug Kitchen has been rebranded as Bad Manners. They now have 6 books, including Brave New Meal: Fresh as F*ck.
It occurred to me that my book would need such a subtitle. A double meaning. Cook like you care. Something like that might work.
I tried to reel my mind in, telling myself to relax, stop thinking about Alzheimers, caregiving, and cooking. That was not what this weekend was about. I was here to:
Enjoy the beach – because I hadn't been able to spend time at the water in months
Be in nature – ditto
Get away from responsibility
Take time off from caregiving
Not cook, not care
Be alone
See and smell saltwater
Stop worrying
Reflect
Watch waves
Sometime during the walk back I began to realize that what I was wrestling with was the perfect next post for Tidal Life. The article I had been seeking to take my website in a new direction that, in addition to boating, travel and the sea, would include stories about the tides of life, and the books I'm working on.
Because I was back where it all started – Puget Sound.
Iconic Beach
Puget Sound shaped my life. It also gave birth to Tidal Life.

The Sound has always given me a sense of meaning, and space for thinking. When in need of alone time to clear my head, I've always headed for the beach to walk, to watch the water, to see what the sea throws into my path.
Perhaps the most iconic stretch of beach on Northwest waters is Dungeness Spit. It reaches five and a half miles out into a watery crossroads – the intersection where The Strait of Juan De Fuca, Puget Sound and Canada's Georgia Strait come together.
Ships come in from the sea via The Strait of Juan de Fuca and then turn north into Haro Strait, bound for Canadian waters and the ports of Vancover and Victoria, or south into Admiralty Inlet, which leads to the major US ports of Seattle, and Tacoma.
Sand builds up here, driftwood collects here, tourists flock here – in summer. In winter it's a lonely spot.
Only hardy locals value Northwest beaches in winter. I am hardy. Puget Sound made me that way. What better place to look for some perspective during this difficult time of caring for a loved one, when I thought I'd be sailing carefree through tropical waters. Life comes at you with ups and downs. Like the tides.
When I named this blog Tidal Life, I was thinking about the environment and life along the shore. The human life, the wildlife, the beach life, the sea life, and the interactions between them. I didn't think about the tides of the life we live wherever we may be. Every life has good times and struggles.
Finds Along the Beach
The second day, I got up before the sun and went to the spit to watch the dawn.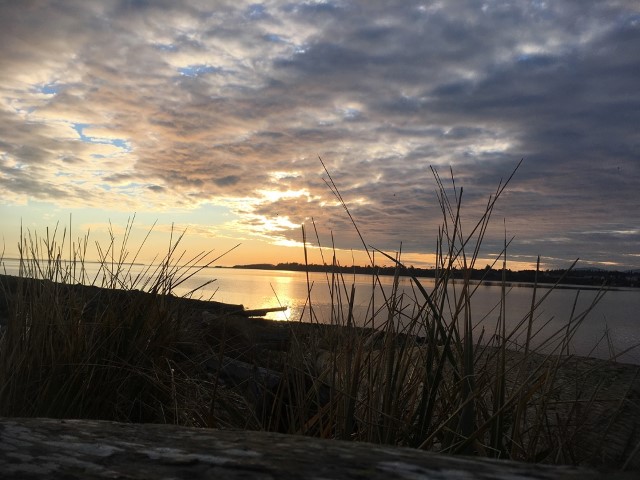 Few make the 11 mile round trip trek to the tip of Dungeness Spit in winter. I was alone on the beach the entire morning. There were no foot prints on the sand.
Which was fine with me. I love exploring, way finding, seeing things no one else sees. The further out you get from your normal world, the longer the beach you walk, the more interesting things you find.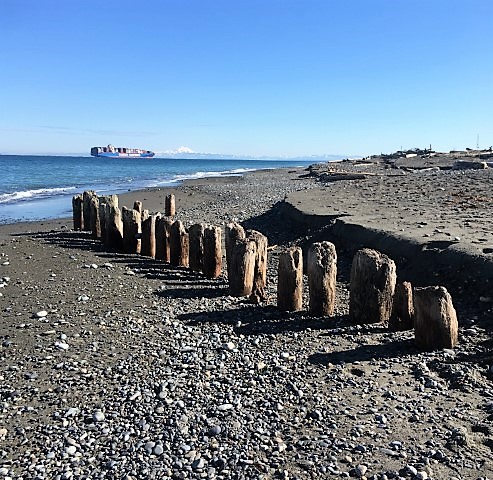 Rethinking Life and Looking for the Way Forward
At the end of Dungeness Spit sits the New Dungeness Lighthouse, built in 1857 to light the way for ships coming in from the sea, or heading off on a voyage, and to keep them off the hazardous shore.
An old lighthouse is a great place to be amazed by the past and wonder about the future.
What I could see of my immediate future held a drive across the country, returning home to my boat, still exploring, still caring about the marine environment, and still writing stories. Exactly what form any of that would take was still unknown.
Setting a New Course
Where will Tidal Life go next? I cannot fully answer that question. While I've got ideas and plans, one of the great things about drifting with the tides is you can't always determine where they will take you. It's easy to get off course.
For me, getting off course is often more exciting than sticking to a planned route. I never planned to live in South Carolina, but this is an amazing place. I didn't plan to care for an Alzheimer's patient for over a year, but it's been a great experience, full of wonder and sadness that I do not regret.
Tidal Life's course is changing slightly. The focus on the sea, boats, beaches, and travel will continue. But I'm going to add more about writing, reading and books – my books – starting with an exciting announcement later this week. I'll write more stories about things the tide of life throws at you. It's a work in progress, like every life.
Come to the Beach with Me
If you've subscribed to updates from Tidal Life you're good. Otherwise, you can subscribe using this handy form. I'll be thrilled to have you come along.
You can also follow Tidal Life on Instagram, where I post an eclectic mix of pictures of things that catch my eye.
If You Get a Chance, Visit Dungeness Spit
Dungeness National Wildlife Refuge
Open daily sunrise to sunset
New Dungeness Lighthouse
Tours Daily 9 to 5