Facing a Watery Bogeyman
If ever there was an expectation built up in my mind, it was the fearsome conditions to be found when crossing the Gulf Stream, and the 45 miles of open water between Florida and the Bahamas.
Stories of misadventure in the Gulf Stream abound. We've heard tales of boats blown off course. Friends have told us sagas of broken rigging, torn sails, seasickness, and divorce. No murders that I've heard of. But as a novelist, I've done my part to rectify that! In fiction, only in fiction.
Everyone warns the novice that crossing the Gulf Stream can be difficult. There's a lot of advice out there.
Go only when weather conditions are perfect, or as close to perfect as possible.
Never go when there is a wind with any northerly component. The stream flows from the south, if the wind is coming from the north it's called wind against tide, and that's when big waves can build up. So look for a wind from the south.
Steer an s curve route. South a little before entering the stream, north in the stream, south again on the other side of the stream.
Time you're crossing to the minute or you'll miss your planned landfall and have to back track. Experienced Bahama's cruisers have equations you can plug in to your specific route.
We took the advice. Our chosen departure point was the southern tip of Key Biscayne. Landfall would be Bimini, the closest Bahamian island to Florida. We would drive an s curve, heading south a bit from Fowey Rocks before hopping on the Gulf Stream like a ski lift to let it tow us north.
Since this was our first time to venture more than ten miles out to sea in Domino, and since we hadn't done any open water travel for a while, we paid especially close attention to the warnings about weather. We did not like the idea of heading out into conditions that can break part of our boat, or break our spirit. (Still don't.)
The forecast for our chosen day called for a westerly breeze, offering a boost in the right direction. Perfect. The waves were forecast to be minimal. There was potential for some rain. This was a significant weather worry, as rain often comes with squalls or thunderstorms, so we would keep an eye on that.
Ready, Not Ready
We were nervous and keyed up as Tom started the engine at 5:05 AM. We had made our list and checked it twice – twice every fifteen minutes. There were extra bathroom visits.
Everything stowed, all the boxes ticked, we were completely ready. There was still a dark smudge of cloud on the eastern horizon, but the moon was out and visibility was great.
A light breeze accompanied the weighing of the anchor at 5:30, then, as we motored out the mouth of the harbor, the full moon slipped behind clouds. Luckily we had the track we'd laid down on the way into the harbor to follow back out.
An hour later, as we neared Fowey Rocks, the sky lightened and our anxiety about not being able to see faded. Then the wind came from the north, it was only about 8 knots, but it was a surprise, and we went – uh oh.
Storm clouds were visible in the distance. We saw no other boats. I got nervous that we'd missed some weather memo. But as the sun rose, the waves were gentle, and those clouds stayed out there, on the horizon. We motored on.
The difference between an adventure and an ordeal is attitude.

Bob Bitchin
Just Do It
The north wind persisted until almost half way across, then it switched to the east. But by that time the water had turned an insane, and mesmerizing, bright navy blue, and flying fish kept distracting us, so we hardly noticed the breeze.
We saw only two ships well off our bow, and two ships well off our stern. That's the way I like it. The auto pilot steered and we just watched the morning go by.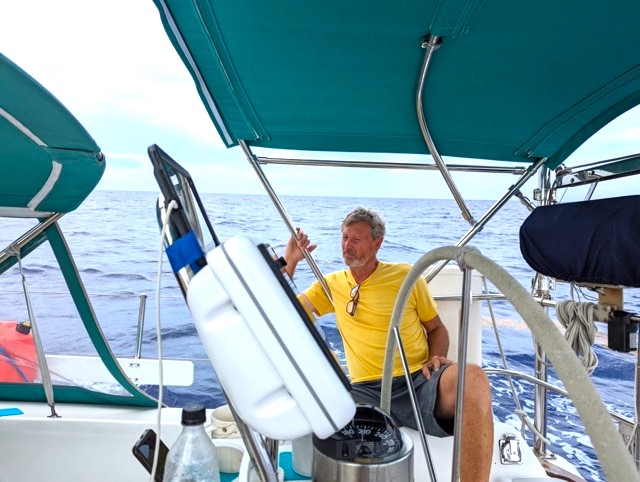 I wore my PFD for this first crossing because I have a fatalistic streak. Whatever I plan for will not happen. It's the things I don't think of that will happen. And so, I didn't fall overboard.
About 25 miles from Bimini, a bedraggled bird tried to use Domino for a resting spot. He kept trying for ten minutes or so, circling the mast, looking for a foothold. There are no spreaders on a Freedom, so he was out of luck. I felt guilty for depriving him of a place to rest, and caught myself noodling around with cuckoo ideas for fixing a stick up there. Finally he flew off to the south, and I wished him well.
Land Ho!
At 12:20 we sighted towers and trees. Soon after we could see land, and buildings. The emotions changed completely, there was no longer anxiety, or trepidation, or a tendency to fall asleep. Now we were very excited.
My Love Affair with the Water Begins
Still well offshore of the Bimini harbor entrance, we discussed what that strip of bright turquoise along the beach might be. I decided it was a plastic barrier of some kind. Maybe a fence, cordoning off a resort's private area from the public space. I felt a little irritation that corporations do this.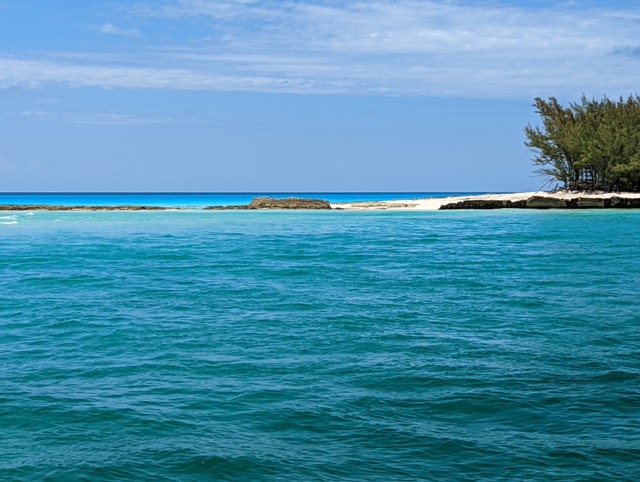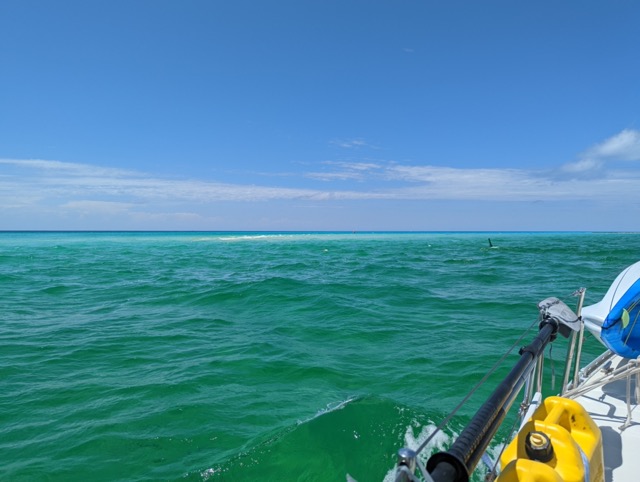 As we got closer, I went forward with binoculars to check. When I found that the neon color was simply the shallows, blue water over white sand, I staggered back to the cockpit, mind blown.
Everyone we know who has visited the Bahamas told us about the water. We'd seen a bazillion pictures of the water. And still we were not prepared for the reality of the water. We navigated the North Bimini entrance with our mouths hanging open.
We arrived in Bimini at about 2:00 and by 2:30, were docked at Bimini Blue Water Marina, drinking it all in.
Another World, or Another Chance to Adjust My Attitude
I donned my mask and got directions for where to go to check in with Customs and Immigration.
I'm sort of ashamed to say this, but when I stepped through the marina gate onto the main street of Alice Town, I swooned with third world bliss. Broken pavement forced me to watch my footing, and I was responsible for not standing under palm trees laden with coconuts. Plywood sheets bridged gutters, hand painted signs advertised businesses. I was not in glitzy, sanitized, strip mall Florida anymore, and I was so glad!
The town was roughed up by recent hurricanes, but the people were getting on with life. I decided the money we spent would go to the small groceries, the road side food stands.
Freaking tired, a little strung out from the onslaught of new experiences, distracted by cool things to look at, I was unprepared. I'd done all the online steps for checking in, but I'd neglected to print the forms. So of course that's what the officials wanted. Printed forms. I was able to show them the electronic versions, but it took longer. Printing would have been much simpler.
But while I thought I was in government offices all day, in reality the whole process only took an hour.
By the time I got back to the boat, I felt burnt by the sun. Though the sky, for most of our crossing had been quite cloudy, it shined fiercely on Bimini. We spent the rest of the afternoon sitting in the shade, staring down into water, or floating in water, trying to cool off.
The water under Domino was so clear we could see every grain of sand on the bottom ten feet below. And the sharks! When we pulled ourselves away from staring down at the marine life, the cool water of the pool felt like heaven. We just flopped back and floated.
We'd done it. We'd left the continental US, braved open ocean, and crossed to an entirely new country. Though countless boats make the trip every year, we'd proved something to ourselves. Now we'd really started cruising. We could do this.
In late afternoon the music started, and it did not stop all night. But exhausted from the flood of new experiences, we heard a soothing lullaby.
Exploring Alice Town
We woke to opinions. A man was shouting from the top of a nearby shipping container. We didn't catch many of the words, but the ones we did catch were juicy. This too is a part of a crossing such as we had just executed. We were in an entirely new world, with new points of view. Learning about the citizens of the place and what they think is another interesting side of travel. Sometimes what you hear makes you adjust.
For the next few days we would lay back, soak in whatever vibe came, and get set for the next leg of our journey.
This was paradise though. It would be really easy to get this far and just stay put. A ring of puffy clouds hung over Bimini, but straight above was brilliant blue. The unexpected marina pool pulled us in. The water beneath our boat might also have been cooling, but fishermen cleaned their catches nearby, sometimes feeding the sharks on purpose.
The clarity of the bonkers blue water continued to be the biggest topic of conversation for Domino's crew. We stood on deck and watched fish we could easily identify glide under the boat. Tarpon, barracuda, sting ray, eagle ray, nurse shark. Over and over we thought, fish like these (along with alligators) were always under and around us when we swam in South Carolina, but we never saw a single one. Shiver.
We hiked over the hill to the beach on the other side of the point and found the beach was even more amazing than the harbor. Just like all the movies set in tropical locales, only better for being real.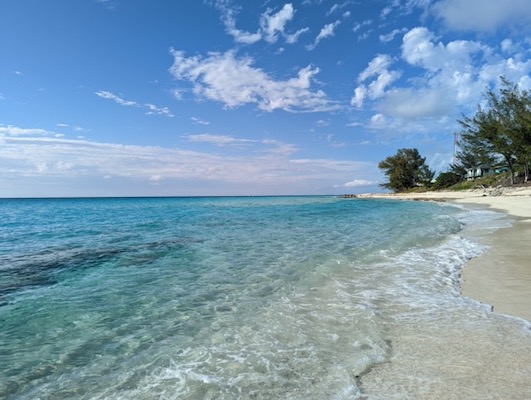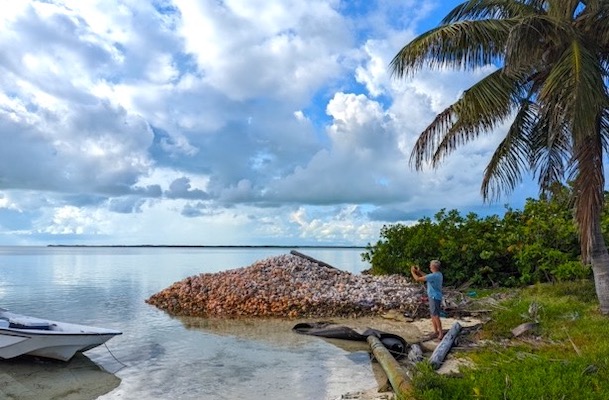 Walking through town, we took in Hemingway era Bahamas history, unusual buildings, saw our first conch pile, and marveled that a three mile by five mile dot out in the middle of the ocean could support such rich life.
At the other end of the island we found a cruise ship towering over the land. And hotels, upscale marinas, gated communities, and strip malls. I did not care for the Florida clone development at the North end of Bimini. Tom, tired of the smiles and greetings of corporate gatekeepers, grumbled about "False displays of mental health." We hustled back to the colorful, alive, South end.
Bimini was only a quick stop for us on the way to more Bahamas. So we looked at weather again and decided that two days hence we would head out across the shallow Bahama Banks, bound for the Berry Islands.
How Things Get Done – Bonus
Our last night in Bimini we got to watch a fuel delivery. The shallow water of the islands dictates a fascinating process. Click the photo of the tanker to watch the video.
Hindsight and Disclaimer
All the advice for crossing the Gulf Stream that I mentioned above is really helpful to know, and there's a lot of value in going through the planning exercises. I'm really glad we did all that first, and I recommend it for anyone for their first time.
Now that we've done the crossing, I think we could have simply drawn a straight line from No Name Harbor to Alice Town, and set the autopilot for No Drift. I think everything would have worked out fine. The worst that might have happened is a couple of hours longer crossing or some back tracking. Armed with all the knowledge of currents and courses, I'd try that the next time we cross, if we ever cross that way again.
But the weather advice? Do not ignore that, never ignore that.